Board agrees additional grant award cycle
Following the generous gesture of The Center for Independent Study (CIS) in New Haven to disburse remaining CIS funds (about $3,000) to NCIS in support of members' conference attendance and library fees, in July the Board voted to add a third grant award cycle in the year, starting in 2018. This will allow us to support more members attending summer conferences, as well as helping members with research-related expenses. Go to www.ncis.org/grants for details of how to apply.
New Grant Funding, courtesy of CIS
The Center for Independent Study (CIS) in New Haven has decided to disband after 40 years' service to the IS community. As part of the dissolution process, the CIS board decided unanimously to disburse remaining CIS funds (about $3,000) to NCIS in support of members' conference travel, conference registration fees, and library fees incurred to support members' research. We are immensely grateful to CIS for their generous gesture, and delighted that we will be able to fund even more of our members.
These funds will be disbursed through our Conference Support Grants and Research Grants. Go to www.ncis.org/grants for details of how to apply.
NCIS Grant Awards - Spring 2017
Congratulations to our latest grant recipients! In the Spring cycle of NCIS grant awards anthropologist Yvonne Groseil was awarded a Conference Support Grant for her forthcoming paper "Living History: The National Society of Colonial Dames", to be presented at the 17th Berkshire Conference on the History of Women, Genders, and Sexualities: "Difficult Conversations: Thinking and Talking About Women, Genders, and Sexualities Inside and Outside the Academy". This is one of two  NCIS-supported papers to be presented at this conference.
Political scientist Patricia Cavanaugh has also been awarded a Research Grant to support her work on the History of the Center for Urban and Regional Affairs (CURA), with a view to presenting the fruits of her research at a political science conference in Spring 2018, publishing in an academic journal, and sharing her research directly with CURA staff for their use in educating the public about CURA's 50-year history.
Tula Connell publishes in Labor Studies Journal
Tula
Connell's article, "1950s Milwaukee: Race, Class, and a City Divided," has recently been published in Labor Studies Journal as part of the "UALE Conference Special Issue: The Intersection of Labor and Race." (Abstract only accessible online.) Tulaoriginally presented this paper at the Urban History Association conference with the aid of an NCIS Conference Support Grant. The photo featured here is of the indomitable Vel Phillips, the first woman and first African American on the Milwaukee Common (City) Council, elected in 1956--and still going strong!
Krystal Perez Mercado reports on her presentation in Thailand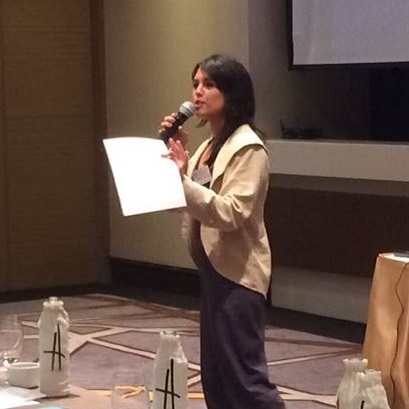 In early March Krystal N. Perez Mercado (Puerto Rico) presented a paper at the 8th Annual Women's Leadership and Empowerment  Conference in Bangkok, Thailand. Krystal presented her paper entitled: "A-sanarte (self-healing) Hatha Yoga Practice in conjunction with Group Therapy for Domestic Violence Victims in Mexico," on work supported by a generous Dorbrecht grant, administered through NCIS, which supports scholarship in the philosophy, history, or sociology of yoga.
Krystal reports that the conference "was an amazing experience. The presentation was excellent. I met women from all over the world and we are planning some research projects together. The research topic was received with very good comments and we are applying some ideas and comments to the work in progress of the article."
Jolanta Wrobel Best reports on NCIS-supported paper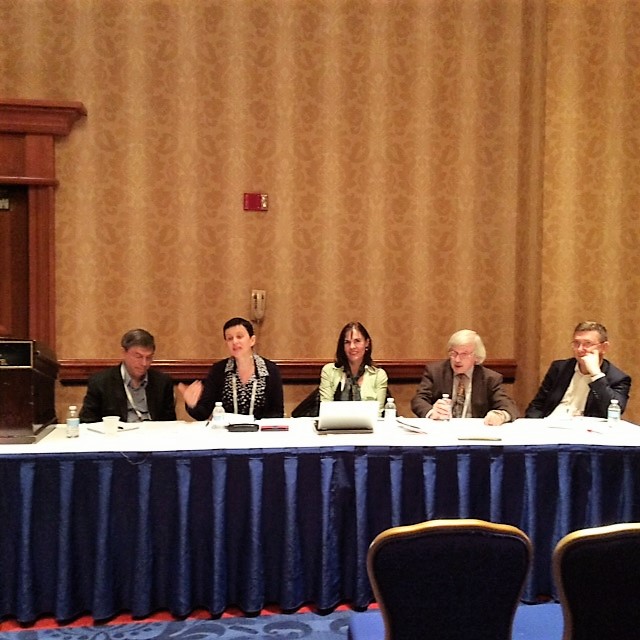 In November Jolanta Wrobel Best travelled to Washington DC, with the aid of an NCIS Conference Support Grant, to take part in a panel on Polish literature at the 2016 Convention of the Association for Slavic, East European and Eurasian Studies (ASEEES). Jolanta reports that the conference was interesting and that her presentation, on the panel in Comparative Literature: Polish Writers and the West, went well. Her paper focused on "Semantic Significance of Canadian Images in Julian Kornhauser's Been and Gone: An Intercontinental Debate on History, Being, and Time," in which she examined Canadian images in Been and Gone (2001) by Julian Kornhauser (1946- ) and stressed the Edmonton Elegies (Elegie edmontońskie) that were written by the poet in Edmonton, Canada, far away from Poland and Polish language and culture.
 
New Biography by Suzanne Hertzberg Illuminates Roosevelt Era Woman Photographer's Career
Katherine Joseph's photographs offer us an insightful glimpse into a moment in history and allow historians a better understanding of the role of women working in America before and during World War II. —Brent D. Glass, Director (Emeritus)   National Museum of American History
Suzanne Hertzberg's biography of her mother, Katherine Joseph: Photographing an Era of Social Significance (Bergamot, 2016) is the remarkable story of a woman who captured the golden age of organized labor with her camera. The biography is presented within a richly textured and meticulously documented historical context, and draws upon source material from Cornell University's Kheel Center for Labor Management Documentation and Archives, the National Records and Archives Administration, the Franklin D. Roosevelt Library, Joseph's own memorabilia, and personal interviews. Ms. Joseph's compelling photographic pursuits add a new dimension to immigrant women's experience in America and also preserve a legacy of historical, artistic, and feminist significance for scholars and general readers alike.
Reviews
This is more than a daughter's poignant remembrance of her mother, a rebel girl of the '30s, it's the story of immigrants' kids surviving the Great Depression and finding triumph in rank and file labor unions. The heroine was a photographer who caught few glamour figures; hers was in the tradition of Lewis Hine and Dorothea Lange.
—Studs Terkel, Pulitzer Prize-winning author and oral historian 
Katherine Joseph had one remarkable tale to tell: emancipated woman in the era just after the Jazz Age; professional photographer; Union Maid; political progressive. But she led her quiet life and tended to her family, secretive until her death. Then some old and shocking photos stirred her daughter's curiosity and Suzanne Hertzberg began digging into her mother's proud past and came up with this fascinating story.
—Don Rose, independent political consultant, Chicago Daily Observer columnist
Hertzberg's book is one of those rare gems, combining a daughter's discovery of her mother's past and hidden talent with gracefully communicated nuggets of history spanning two countries and cultures—Mexico and the United States—during the FDR years.
—Gail Dickerson, author
The book is available at Amazon and Bergamotbooks.com. To schedule a speaking engagement by the author, contact Suzanne Hertzberg: shertzberg@gmail.com.
Final Call for Global Cuisines by Independent Scholars: A Learned Cookbook, ed. Nhi Lieu
The NCIS cookbook Global Cuisines by Independent Scholars: A Learned Cookbook is now under way.  However, as membership of NCIS is increasing daily, we are now issuing a final call in case newer members of our scholarly community would like the chance to participate. Global Cuisines will feature members' recipes, each accompanied by a brief scholarly essay. The essay may illuminate the recipe in a wider scholarly context—historical, cultural, social, scientific, economic, environmental, etc. – or the recipe may complement the topic of the essay, as in Amanda Haste's essay on modern monastic music, alongside a recipe for the French pastries known as religieuses.
Our previous calls resulted in about twenty submissions from members of NCIS and NCIS affiliates. These include such exotic delights as "Japanese Knotweed Crumble" alongside a piece on edible plants and the invention of this recipe; "Aféleia" (Pork loin in wine and dry coriander sauce) accompanied by an essay on "Cooking with Dionysus' Wine"; and "L. Maria Child's 19th-Century Election Cake" with its accompanying essay on author and activist Lydia Maria Child (1802-1880).
Those of you who missed the previous deadlines now have a chance to take advantage of this fun and exciting opportunity to expand your scholarship. Scholars who have already submitted an original recipe are also invited to submit a second entry...or more!  WE NEED YOU TO MAKE THIS HAPPEN.  Without a substantial collection of recipes, we may not be able to collectively form a book.
Further details, along with sample recipes and essays, can be found here. Deadline for submissions: December 31, 2016.   
Tula Connell reports on NCIS-supported paper
With funding assistance from the NCIS Conference Support Grant, NCIS Communications Officer Tula Connell (left) traveled to Chicago for the Oct. 13–16 Urban History Association conference, where she participated with two other historians on the panel, "Race, Conservatism, and the Working-Class City," centered on postwar Milwaukee. Connell opened her presentation, "1950s Milwaukee: Race, Class, and a City Divided," by expressing thanks to NCIS for the Conference Support Grant, and went on to highlight the challenges independent scholars face and the need for such resource support. She also discussed the issue of independent scholars in informal conversations with colleagues at the UHA conference and highlighted NCIS's role in providing a crucial network and support function.
Connell reports that adjunct and non-tenured professors are especially supportive when she discusses the challenges independent scholars face and finds that the issue of independent scholars is readily understood and appreciated among her labor historian peers.
The article Connell wrote based on her presentation at the UHA, "1950s Milwaukee: Race, Class and a City Divided," will be published in the Labor Studies Journal in early 2017, and will include an acknowledgement of NCIS for its support.
New publishing deal for Max Longley
Max Longley is researching Joseph Williams Thorne, a Underground Railroad conductor turned carpetbagger, for which he received an NCIS Research Grant this spring. Mr. Longley is the author of For the Union and the Catholic Church: Four Converts in the Civil War (McFarland, 2015), which was reviewed in The Independent Scholar Vol. 2 (Sept. 2016), and he has recently signed a contract with the same publisher for a book on Thorne, expected 2018. Joseph Williams Thorne was a radical Quaker whose career spanned the latter half of the nineteenth century. A farmer and schoolmaster, Thorne embraced many causes of his time, such as abolitionism, women's rights, prohibition, and international arbitration. In prewar Pennsylvania, he was an Underground Railroad conductor a dangerous enterprise in an area where fugitive slaves and free black people clashed violently with kidnappers from across the Maryland border. After the Civil War, Thorne moved to Reconstruction-era North Carolina and was elected several times by former slaves to represent their interests. At one point, when he was the only remaining "carpetbagger" in the state House of Representatives, he was expelled for his religious views, in a dramatic clash over religious freedom.
New Benefit for NCIS Members:
30% Discount on Nota Bene Academic Software
NCIS has obtained a 30% member discount on Nota Bene referencing software which is designed for academic research and writing. Lingua, which adds Nota Bene's support for Hebrew, Arabic, Greek, Cyrillic and IPA. can also be purchased at a 30% discount. Lingua is fully integrated in Nota Bene and can be used in Ibidem, Orbis and IbidPlus as well as in the word processor; Mac users will have the option of downloading "Nota Bene 11 (+ Wine) for Mac".
A 30-day trial version is available on www.notabene.com. If you decide to buy, the software can be purchased using the NICS discount: the group code is available in the NCIS members' area under Benefits.
 
NCIS Conference Support Grants - Autumn 2016
The NCIS Grant Awards Committee is delighted to announce that NCIS Conference Travel Grants have been awarded to Tula Connell, for her paper entitled " 1950s Milwaukee: Race, Class and a City Divided," to be presented at 'The Working Urban' Urban History Association Conference, October 13–16, 2016; and to Susan Breitzer for her paper "Gender, Independent Scholarship, and the Origins of the National Coalition of Independent Scholars" to be presented at the 17th Triennial Berkshire Conference on Women, Gender, and Sexualities in June 2017.
Dorbrecht Grant awarded to British member Lucy Crisfield
British NCIS Member Lucy Crisfield has been 
awarded a Dorbrecht grant to begin 
research on her book, 'Sanskrit for Yoga Students', while concurrently studying the grammar of the Pāṇini's Aṣṭhādhyāyī. The purpose of her book will be to examine the role of the Sanskrit language in the major philosophical yogic texts, predominantly of the Yoga Sūtras, so as to enlighten student's understanding of these works. As more and more people start engaging with the discipline of yoga, an increasing number of words from this ancient language are finding their way into yoga studios. With this resurgence however, has come a loss of clarity about the original essence of the words. Lucy intends to write a book that is 
relevant
 to yoga
practitioners of today to enlighten, clarify and inspire. Lucy 
will 
continue to study of the sūtras of Pāṇini so that her understanding may be rooted in the observations of this great master.
From the Winners of the Eisenstein Prize
Following the annoncement of the 2016 Eisenstein Prize, we'd like to share the following statement from Barbara Williams Ellertson​, who, with Janet Seiz, co-authored the winning essay.
"We are so honored to be chosen as the 2016 recipients of the NCIS' Elizabeth Eisenstein Essay Prize. Elizabeth Eisenstein was literally the first scholar I read when just beginning the research that led to the BASIRA Project; her work essentially created the field that so many cultural historians are now cultivating—and will be for many, many years to come. I just read Eisenstein's last book, "Divine Art, Infernal Machine,"  and found again that her ability to make connections across centuries of human experience illuminates our current technical turmoil in deeply helpful ways. Being awarded this prize is such a very high honor. It puts wind in our sails to carry on with our work.
I'd also like to mention that NCIS has been part of our research effort from the beginning; when I needed credentials to support library research in Italy, NCIS provided an affiliation letter that helped open doors. The national conference in New Haven gave us impetus to prepare our first paper. And then the peer-review readers of The Independent Scholar guided us through revisions that very much strengthened our article. For myself, NCIS has provided crucial support that is helping make my second career as an independent researcher possible."
Welcome to four scholars who recently joined NCIS
NCIS welcomes three new members and one associate member!
While building a career in business, Ken Gorfkle also earned a doctorate in Spanish literature, graduating from University of North Carolina-Chapel Hill in 2014. At UNC, he focused on semiotics, poetics, and contemporary Latin American literature and gained expertise on the work of the internationally recognized contemporary Chilean poet, David Rosenmann-Taub. Dr. Gorfkle has written received a grant and multiple awards from the foundation that preserves and promotes the work of this gifted and multifaceted artist and has been reworking his doctoral dissertation, "The Intersection of Life and Death in David Rosenmann-Taub's Tetralogy Cortejo y Epinicio" for publication. He is preparing a series of articles based on an interpretative approach to the poet's work for academic audiences and also is preparing to disseminate the poetry to a lay audience.
Geneveive Newman, a recent alumna of the University of Southern California's School of Cinematic Arts MA program in Cinema and Media Studies. Her research interests include decolonial and Third Cinema, horror and science fiction media, transnational Irish cultural production, and critical cultural studies. An independent scholar, her current research focuses on marginalization, decolonialism, and formal experimentation in horror media and literature.
Angela E. Roe, Ph.D, is a cultural anthropologist, writer and filmmaker of Curaçaoan, Surinamese and Dutch descent. Dr. Roe's passion is to conduct solid anthropological research and to make her academic work accessible to large, non-academic audiences. Therefore, in 2012 she launched the Warwarú ImageNation Foundation, a nonprofit research, media and event organization that spotlights (Dutch) Caribbean tangible and intangible heritage, and that pursues ideological decolonization through a wide variety of events and research projects. Her foundation's first project was the award-winning documentary Sombra di Koló/The Shadow of Color (2014), on race and racism in Curaçao.
NCIS Associate member Gary Rubin is a financial services professional with more than 30 years experience. He holds a masters degree in Applied and Professional Ethics from the University of Leeds and is a published author in the areas of financial advisers and ethics. He currently is researching applied and professional ethics with a focus on business ethics in the field of financial services.
 
Winners of the 2016 Elizabeth Eisenstein Prize
We are delighted to announce the winners of the 2016 Elizabeth Eisenstein Prize, named for Professor Elizabeth Lewisohn Eisenstein (1923-2016) in recognition of her long-standing support of NCIS, and co-funded by NCIS and Margaret DeLacy, daughter of Professor Eisenstein and a founding member of NCIS. The Prize is awarded annually for the best peer-reviewed published article submitted by a member of NCIS, and brings the winner an honorarium, which this year is $350.
Details of the Eisenstein Prize and the 2017 Call for Submissions can be found under www.ncis.org/grants.
The 2016 call for papers attracted a strong field of papers from NCIS members in the USA, England, France, Romania and Poland. They represented a wide range of disciplines including theology, musicology, women's studies, history, literature, systems practice, art history, media studies, identity studies and cultural anthropology.
WINNER
"The Painted Page: Books as Symbols in Renaissance Art" by Barbara Williams Ellertson & Janet Seiz. Published in The Independent Scholar Vol. 1 (2015): 20-33.
RUNNER-UP
"Clichés Revisited: Poland's 1949 Łagów Composers' Conference" by Cindy Bylander. Published in Polski Rocznik Muzykologiczny [Polish Musicological Annual] 2015: 15-34.
NCIS Welcomes Recent New Members
Marilyn J. Andrews is an independent scholar who earned her doctorate in Mass Communication at the University of Wisconsin, Madison. She also holds master's degrees in Cultural Anthropology and Education. Her dissertation research examined how the Mapuche people of South America utilize the Internet as a tool of self-representation to foster a national identity and how that usage reflects traditional understandings of socio-territorial identity. As a full-time secondary school teacher of Spanish, Dr. Andrews is exploring indigenous identity expressions in online media, social media (globally), and how speech communities form in online environments. She is the co-editor of "Online around the World: A Geographic Encyclopedia of the Internet, Social Media, and Mobile Apps" to be published in 2017 by ABC-Clio.
Chris Lezotte, a Detroit native, worked for many years in advertising, writing car commercials. This life experience led to her research into the relationship between women and cars, an interest she pursued as part of her doctoral studies in American Culture Studies at Bowling Green State University, as a 2015–2016 BGSU Center for Popular Culture Studies Research Fellow and in a master's degree in Women's and Gender Studies at Eastern Michigan University. She is currently researching non-hegemonic car cultures in general with a specific focus on alternative constructions of the "woman driver."
Website: http://chrislezotte.net
Ph.D in Anthropology for NCIS member (Israel)
Anthropologist Efrat Sadras-Ron (Israel) has successfully defended her Ph.D. on "Secular Identification: The Case of BINA and its Secular Yeshiva," in which she explores the concepts of everyday secularity, and group identification. Using the ethnography of a secular yeshiva in the south of Tel-Aviv and of the organization behind it, Efrat examines the ways in which the secular mind set influences the operations of this Jewish educational organization. She marks four secular modes of operation: literacy, multiplicity of voices, contextual truth, and action in the here-and-now. These secular modes of operation help advance everyday sovereignty, which is defined as a secular aspiration, and can be regarded as a fifth secular mode of operation. Finally she makes a conscious effort to investigate the secular independently form the religious, by examining the former as it co-exists with the latter under the heading of Secular Jewishness. She concludes by offering a new model for group identification, which is grounded in the secular mindset and based on two principles: fidelity to core principles, and negotiation and debate as a means of maintaining groupness.
NCIS Welcomes 2 New Members
NCIS welcomes two new members, Jeffrey Scheuer and Dr. Joyce W. Morgan, who are among nearly one dozen scholars who have recently signed up with NCIS.
 
Jeffrey Scheuer
 is author of two books on media and politics, The Big Picture: Why Democracies Need Journalistic Excellence (2006) and The Sound Bite Society (1999; a 
Choice
 "Outstanding Academic Title"). Scheuer has written numerous essays, reviews, and commentary for more than 20 daily newspapers, and for journals and magazines that include "Dissent," "The Fletcher Forum of World Affairs," "The Wilson Quarterly," "Gettysburg Review," "Potomac Review," "Academe," and "Philosophy Now" (UK). He has authored multiple entries for the Encyclopedia of New York City and has served as as adjunct professor and series editor. Scheuer's current project involves research for a book about the liberal arts and critical thinking. Scheuer's website: 
www.jscheuer.com
.  
Joyce W. Morgan, Ph.D., has worked for the Florida Department of Management Services for more than 25 years. She currently is Chief for the Bureau of Enrollment and Contributions for the Florida Retirement System and serves on the Board of Directors at Tallahassee Christian College and Training Center. Dr. Morgan is a member of Capital City Toastmasters and received her CC and CL designations from Toastmasters International, an organization dedicated to improving communication, public speaking, and leadership skills. Dr. Morgan earned an A.A and B.S from Florida State University, an M.B.A. from Baker College Center for Graduate Studies, and a Ph.D. in Public Policy and Administration from Walden University. Her dissertation topic: Medical Underwriting: A Factor in Long-Term Care Insurance (LTCI) Market Demand, examined a representative sample of U.S. adults age 65 and older for health and lifestyle risk factors affecting LTCI eligibility. As a gerontologist, her interests include aging, caregiving, public policy, income security, and health-care management.
Member Nhi Lieu: 'I Engaged with Scholars in My Field'

NCIS Board member Nhi T. Lieu, a scholar in American Ethnic and Culturla Studies and Gender and Women's Studeies, recently was awarded an NCIS conference grant and report her on her work at the event, the Association of Asican American Studies conference.
I attended the annual conference for the Association of Asian American Studies in Miami April 28–30.  The conference theme was : "Gateways, Ports and Portals:  Re-imagining Points of Departure for Asian American Studies."I presented at a roundtable discussion on the panel "Refugees and the Art of Re/Creation:  Pleasures and Leisure as sites of Social and Political Critiques."
I engaged with scholars in my field and attended panels that supported my interests in cultural studies and new work on fashion, beauty, and consumer capitalism. I serve on the board for the Journal of Asian American Studies (Johns Hopkins University Press) and was also able to attend their meeting.  Overall, it was a productive conference that enabled me to have important scholarly conversations in my field.
NCIS Grant Recipient Describes Project on Leader in Underground Railroad
NCIS member Maximilian Longely, recent recipient of the NCIS Research Grant, sends the following summary of Joseph Williams Thorne (1816-1897), the subject of the book he is researching.
"Joseph Williams Thorne was a radical Quaker whose career spanned the latter half of the nineteenth century. A farmer and schoolmaster, Thorne embraced many causes of his time, such as abolitionism, women's rights, prohibition, and international arbitration. In prewar Pennsylvania, he was an Underground Railroad conductor, a dangerous enterprise in an area where fugitive slaves and free black people clashed violently with kidnappers from across the Maryland border. After the Civil War, Thorne moved to Reconstruction-era North Carolina and was elected several times by former slaves to represent their interests. At one point, when he was the only remaining "carpetbagger" in the state House of Representatives, he was expelled for his religious views, in a dramatic clash over religious freedom."
Karp Award Funds Full-Color Botanical Book Plates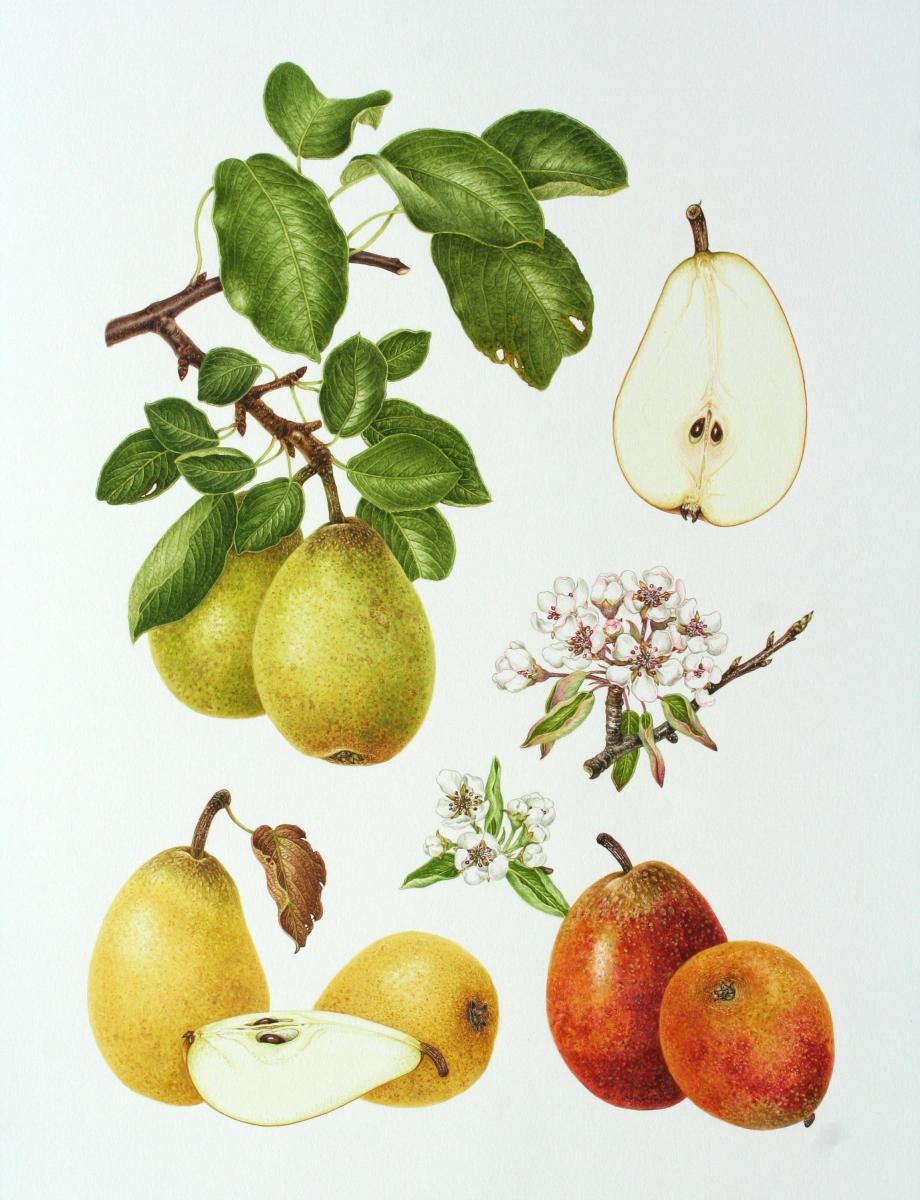 NCIS member Joan Morgan, recipient of the NCIS-administered David A Karp Philanthropic Fund award, utilized the grant to help fund the full-color reproduction of 40 water color paintings in her new book: The Book of Pears, the Definitive History and Guide to over 500 Varieties (Ebury Press/Penguin Random House, UK), published in collaboration with the Royal Horticultural Society and the Chelsea Green Publishing in October 2015. 
Elisabeth Dowle, a distinguished botanical artist internationally recognized for her work, created the paintings. Elisabeth also provided water colors for Dr. Morgan's previous book, The Book of Apples.
(Image depicts the Beurré Hardy and Red Beurré Hardy varieties). 
Find out more about grants available through NCIS.
NCIS Grant Awards - High-Quality Submissions Earn Extra Grant
Due to the high quality of submissions in this Spring 2016 grant cycle, the Review Committee has decided to award three NCIS grants in place of the usual two. Congratulations!
Nhi Lieu has been awarded a Conference Travel Grant for her panel presentation entitled " Intimate Cuisine:  Vietnamese Food Blogs and the Pleasures of Nostalgia." Because of her previous scholarly work on cultural sites of pleasure and performance of the Vietnamese Diaspora, she has been invited to participate on the panel "Refugees and the Art of Re/Creation:  Pleasure and Leisure as Sites of Social and Political Critiques" at the Association for Asian American Studies conference in Miami, Florida this month.
Jolanta Wrobel Best has also received a Travel Grant to support her paper "Semantic Significance of Canadian Images in Julian Kornhauser's Been and Gone: An Intercontinental Debate on History, Being, and Time" which she will present at the 2016 ASEEES Panel in Comparative Literature, on Polish Writers and the West, in November. A Polish national, Jolanta tells us that she will show how the Canadian landscape becomes a 'point of departure,' introducing the "sylleptic subject" (podmiot sylleptyczny) in poetry as well as universal questions about history, time, and human existence."
Maximilian Longley has been awarded an NCIS Research Support Grant to help in his research for his book on Joseph Williams Thorne (1816-1897). Max tells us that Thorne was a vegetarian Pennsylvanian Quaker who suffered religious persecution, and who was also a reformer, religious radical, carpetbagger politician, Republican Party leader, temperance campaigner "and generally in the middle of key issues of slavery, war, reconstruction, religion, religious liberty and reform." 
NCIS Welcomes Three New Members
Freda Bradley (USA) changed careers entirely after spending 25 years in a medical laboratory. In 2012, she checked her Master of Arts in History off her bucket list and became adjunct faculty at West Virginia University at Parkersburg. Freda also runs a small research service called Bridging History specializing in historical and genealogical research for the Mid-Ohio Valley and Metro Valley areas of West Virginia, and performs living history characters based on women during the period of West Virginia statehood.
Paul Schneider (USA) helped preserve, protect and interpret New York State's and the nation's history throughout a long professional career as a museum professional. Retiring from the NYS Bureau of Historic Sites after 28 years, he formed the consulting firm Heritage Protection, LLC, and successfully provided expert security and emergency planning services to museums and historic properties across the United States. In 2006, he returned to his first love: conducting historical research. Since then he has actively pursued research projects ranging from transcribing early 19th century manuscript journals to creating a database to study the evolution of firefighting in the US.  
Monica Colţ (Romania) gained Masters degrees in Canadian Studies and in Educational Management and Institutional Communication (Bucharest) following which she took up a Research internship in Germany at Ernst Moritz Arndt Universität in Greifswald. In 2011 she gained her PhD on the "Dynamics of Multiculturalism" from the University of Bucharest, and now teaches English in Bucharest while pursuing her research as an independent scholar.
Three NCIS Members Among Authors of New Book on Identity
NCIS is proud to announce that three of the authors of Constructing Identity in an Age of Globalization are members of NCIS: Monica Colt (Romania), Efrat Sadras-Ron (Israel) and Amanda Haste (France) who also co-edited the volume with Professor James Block (DePaul University, Chicago).
This collection of essays was born out of an international  conference run by Ars Identitatis at the Sorbonne in Paris, France, and a review of the book appeared in The Independent Scholar, Vol. 1.
The book is now available from Amazon.
Member's Book - New Publication
Congratulations to labor historian Tula Connell, whose book Conservative Counterrevolution: Challenging Liberalism in 1950s Milwaukee has just been published by the University of Illinois Press. The book is described as "a forceful account of right-wing opposition to the postwar New Deal." NCIS member and Communications Officer Dr. Connell is currently in Milwaukee, where she will be a guest lecturer at a class on Capitalism at the Milwaukee Area Technical College as well as giving a few smaller talks related to her research.
Award for NCIS Associate Member Dr Parashram Patil (India)
Congratulations to one of our members from Asia, Dr. Parashram Jakappa Patil, who has been awarded a Young Scientist Award by the Trans Asian /Indo-Mongolian Chamber of Commerce and Industry.
Dr Patil is the son of a poor cashew farmer in a remote village in Maharashtra, and his parents have sold land in order to meet his educational expenses; in spite of these hurdles he has continued his education and gained his Ph.D. from Shivaji University, Kolhapur. He is the first Ph.D. holder in his region and one of the youngest Ph.D. holders in India. The problems he has seen and experienced since his childhood have provided the basis for his Ph.D. work on "Problems and Prospects of the Cashew Nut Industry of the Kolhapur District."
Dr Patil is the founder and chairman of The Institute for Natural Resources, Kolhapur and has been honoured with many awards, such as Best Citizens of India Award 2015 by the International Publishing House; Emerging Young Scholar in South Asia by TERI (a United Nations research centre for South Asia on Sustainable Development); a Departmental Research Fellowship from Shivaji University, Kolhapur; and a Baharat Jyoti Award from the India International Friendship Society, for his outstanding achievements and fight in life will motivate to others.
NCIS Welcomes Three New Members
David Rensberger (USA) is author of Johannine Faith and Liberating Community, on the Gospel of John, and two commentaries on the Epistles of John, as well as essays on various aspects of biblical literature. He completed an M.A. in Hebrew and Semitic Studies at the University of Wisconsin in 1975, and a Ph.D. in New Testament at Yale University in 1981. He taught New Testament at the Interdenominational Theological Center in Atlanta from 1980-2008, and continued to teach there, and at Columbia Theological Seminary in Decatur, Georgia, as adjunct until 2013. He writes about contemporary Christian spirituality for the journal Weavings.
A cultural and intellectual historian working in Taos, New Mexico, Lilian Calles Barger (USA) received her Ph.D. from the University of Texas at Dallas in 2014 and is the author of two previous trade books on women and religion. She was recipient of the American Association of University Women dissertation award. Currently, she is completing her first historical monograph, The World Come of Age: Religion, Intellectuals and the Challenge of Human Liberation. Her research is on the relationship between religion and politics in the American hemisphere and the rise of liberation theologies in the late 1960s. Additionally, she is working on an essay for an anthology on radical religious feminists. She serves as the classics review editor for the Society for U.S. Intellectual History and a regular contributing podcast co-host to New Books in American Studies and New Books in Gender Studies.
Janet Smith (England) received a Ph.D. in 2014 in women's and gender history at the London Metropolitan University. Her thesis was entitled "The Feminism and Political Radicalism of Helen Taylor in Victorian Britain and Ireland." She has presented papers at university conferences throughout Great Britain. Her paper on Taylor's anti-imperialist campaigning in Ireland will be published in March in the peer-reviewed journal 'Women's History.' Smith is contributing a chapter to a book on legal firsts for women and working on further articles for journal publication. She has experience as a teacher, a university administrator and in local government as an elected town councilor.
NCIS Mourns Passing of Elizabeth Eisenstein
NCIS mourns the passing of Elizabeth Eisenstein, an historian of the French Revolution and early 19th-century France and long-time NCIS supporter. Her daughter, Margaret DeLacy, is a founding member and long-time Board member of NCIS. Dr. Eisenstein died January 31.
Dr. Eisenstein, a professor of History at American University (1959-1979) and the University of Michigan (1975-1985), is well known for her work on the history of early printing and her insights into the transition in media between the era of "manuscript culture" and "print culture" as well as the role of the printing press in effecting broad cultural change in the West.
Her best-known work, the two-volume The Printing Press as an Agent of Change, explores the effects of movable type printing on the literate elite of post-Gutenberg Western Europe. In this work she focuses on the printing press's functions of dissemination, standardization, and preservation and the way these functions aided the progress of the Protestant Reformation, the Renaissance, and the Scientific Revolution. (See a 2007 video of Dr. Eisenstein discussing "From Scribal Scarcity to the Disruptive Text.")
Born on October 11, 1923, Dr. Eisenstein received her B.A. degree from Vassar and her M.A. and Ph.D. from Radcliffe College. In 1979, she served a resident consultant for the Center for the Book at the Library of Congress. She was visiting professor at  Wolfson College, Oxford, and held positions as a fellow at the Humanities Research Center of the Australian National University and at the Center for Advanced Study in the Behavioral Sciences in Palo Alto.
The Elizabeth Lewisohn Eisenstein Prize, in recognition of the best published article by an NCIS member, has been dormant in recent years and the NCIS Board is looking at options for reinstating it. A
Two More Scholars Join NCIS
R. Scott Miterko holds Ph.D. in the History and Theory of Architecture from the University of Pennsylvania, where he won the Frank Miles Day Memorial Prize for outstanding work in architectural history and theory. A licensed architect in New York and Connecticut, Miterko is currently researching, among other topics, "Ekphrasis and Wonder: Expressing Wonder in Depictions of Manhattan's Architecture and Interiors 1900 to 1930," and "Globalism and Localism: A Historical Argument for Acting Locally."
California-based Yamil Assi received a Master's degree in 2012 from the National University of Patagonia's combined M.A. and B.A. degree program. The program is accredited by the National Commission for University Evaluation and Accreditation, Argentina and the degree evaluated in U.S. by Western Education Services. Assi's M.A. thesis covers the "Theoretical Intersections between the Geopolitical of Knowledge of Walter Mignolo and The Frantz Fanon of Alejandro De Oto."
Calian and Menard Recent NCIS Members
With a doctorate in Germanics from the University of Washington, Seattle-based Nicole Calian is author of the forthcoming monograph, "Played. The Human—Or what's left of it in Kant's Lectures on Pragmatic Anthropology." A academic director of "Berlin Beyond the Wall," at the University of Washington, Calian has published articles and reviews in both English and German, including a review of "Marriage, Gender, and Desire in Early Enlightenment German Comedy" by Edward T. Potter. She was the 2003 Fellow of the Simpson Center for the Humanities, "Connecting with the Community" at the University of Washington.
Martha Brown Menard holds a Ph.D. in Education/Research Methodology from the University of Virginia and is licensed by the state of South Carolina in massage therapy. Menard is co-executive director of the Academic Consortium for Complementary and Alternative Health Care in Mercer Island, Washington. In May 2015, she won the American Massage Therapy Association's Dianne Polseno Lifetime Achievement Award and has lectured widely in the United States and Canada. She is author of Making Sense of Research, published in 2009 by Curties-Overzet Publishers Inc.
NCIS Welcomes Two New Members
Based in Australia, Dr. Alan Scott has more than 40 years experience in industrial and social research with expertise in social analysis, statistical analysis, questionnaire design, organization design, community and industrial development, and employment and disability. Scott's nearly 50 publications include "Retirees in the 21st Century: Coastal Retirees' Experience of Change" and "Too Old at Fifty." Scott received the inaugural award for "Sociology in Action" from the Australian sociological Association.
Karen Garvin received her Master's degree in European History, with honors, from American Military University in 2014. Based in Washington, D.C., Garvin specialize in nineteenth-century Britain, the British empire, and the industrial revolution. Since 2009, Garvin has written more than 90 encyclopedia entries for Salem Press and ABC-Clio, including biographies, historical events, and technology. 
Welcome New Members
Amy Lynelle earned her Ph.D. in French Language and Literature from the University of Pittsburgh. She has taught undergraduate French language, culture, film and literature while presenting at a number of conferences in the field of Haitian studies. Her recent article "The Chains of Pitit Pierr': Colonial Legacies and Character Linkage in Oswald Durand's Rires et pleurs" was published in The French Review in March 2015. She is currently working as an independent scholar on a book project examining the role of poetry in nineteenth-century Haiti and as a volunteer translator for non-governmental organizations.
Cara De Silva is a writer, journalist, independent scholar, editor, and lecturer whose primary subjects are food history, culture, ethnicity, the Holocaust, New York and Venice. She wrote for Newsday/New York Newsday for more than a decade, specializing in portrayals of immigrant neighborhoods. Editor, and author of the introduction to In Memory's Kitchen: A Legacy from the Women of Terezin (a New York Times most noteworthy selection), her writing can be also be found in major national newspapers, magazines, and books. Current projects are a scholarly novel about 16th century Venice, and continuing research into "War and the Food of Dreams," a frequent topic of her academic lectures. 
 
NCIS Member Wasserman on DMCA
WHY INDEPENDENT SCHOLARS NEED TO BE AWARE OF THE DIGITAL MILLENNIUM
COPYRIGHT ACT (DMCA) AND HOW IT MUST BE AMENDED SPECIFICALLY TO
INCLUDE US.
The following personal story illustrates why the DMCA matters to all
independent scholars.
---
I published a timeline of the Austrian composer Alexander Zemlinsky
(1871-1942) in 2003 at a now defunct web site. It was the first
timeline of Zemlinsky to be published on the Internet and it met with
appreciation by Zemlinsky scholars and other music scholars. I shared
a link in 2009 and the complete timeline (now out of date) is still
available on the Zemlinsky page of The Orel Foundation, an
organization dedicated to bringing attention to the composers
suppressed by the Nazi regime. The timeline is still available at
http://orelfoundation.org/index.php/composers/bibliography/alexander-zemlinsky.
The link is at the end of a bibliography that was posted previously by
the foundation at the site.
My timeline took a great deal of research at German- and
English-language sites, archives and libraries because so little was
written or known about Zemlinsky (a contemporary and colleague of
Gustav Mahler) up to 2003.
My timeline - with historical context - was "appropriated" by a
Belgian man who reproduced it in toto at his own web site without any
mention of my name or acknowledgment of my copyright. It simply looked
like his own work. Apparently my timeline was up at that Belgian site
for a number of years before I caught up with it.
I was shocked and amazed at what amounted to wholesale theft of my
intellectual property. Not being able to afford a copyright attorney I
found the offender's full name and postal address by searching
www.betterwhois.com. I wrote him a cease and desist letter. I gave him
a time certain at which the timeline must be taken down or I would
proceed with a suit under international, Belgian, and US copyright
law.
It was, of course, a bluff but he had less knowledge of copyright law
than I had (and mine was precious little not being a subject I studied
in law school.) The Belgian man took my Zemlinsky timeline down and
within a few years the Belgian site disappeared completely. I neither
know nor care what happened to the site's owner. I can never forget
the fear I felt that my work could be stolen - theft of intellectual
property - and I am uncertain how I as an independent
scholar/researcher and writer would have this kind of protection.
The DMCA seems to have independent scholars low – actually not at all
- on the totem pole of its concerns. It offers more protection to
elementary school kids. And, I am, of course, still very concerned
about my ability to access existing and future scholarly sources:
collections, books, journal articles, libraries, institutions,
publications, and archives whether the items are in hard copy or
electronic, that is digital, versions.
Just to let you know that once it has happened to you as a scholar or
published writer, it is as unforgettable as it is regrettable.
NCIS member Janet Wasserman
November 2015
With thanks to NCIS member Isabelle Flemming for the following
information. She is hard at work covering DMCA issues:
The American Library Association's website that both encapsulates the
Act and provides links for those wishing to see the complete report:
http://www.ala.org/advocacy/copyright/dmca
A timeline prepared by the Association of Research Libraries (ARL)
that tracks its history in the United States:
http://www.arl.org/focus-areas/copyright-ip/2486-copyright-timeline#.VkIh1vmrTIU
Some of the law cases fought over this huge issue:
http://drm.web.unc.edu/relevant-law/dmca/major-cases/
NCIS Member Herstein Reports on NCIS-Supported Paper
Gary Herstein, who was awarded an NCIS Conference Travel Support Grant in Spring 2015, has sent us the following report explaining the premise of his NCIS-supported paper, given at the International Whitehead Conference in June.
"Concerns about the relations between mathematical and physical thinking have occasionally been raised in philosophical and even scientific contexts (Eugene Wigner's essay from 1960, "The Unreasonable Effectiveness of Mathematics in the Natural Sciences," being the most famous of these), but these worries are seldom pursued in any depth. But by ignoring the bases for the connections between mathematical thought and physical reality, physical science has created a situation today where mathematics freely stampedes over physics. This "model centrism," as I have called it, elevates theory so far above data that it leaves theory empirically vacuous.
In contrast, Whitehead's "radical empiricism" brings the complete relational content of the world into the fullness of experience itself, and thereby gives an account for the connection between mathematics and the world. Coupled with Whitehead's detailed logical account of the process of abstraction, this paper shows how Whitehead's philosophy addresses problems within contemporary physical cosmology relating to the possibility of measurement (which is completely undercut by Einstein's general relativity), and offers insights to how a Whiteheadian approach can serve as a corrective to the promiscuous valorization of models at the expense of data that so thoroughly dogs contemporary theoretical physics."
Congratulations to NCIS Member Krystal Perez Mercado
Krystal has been awarded $2,000 from the Dorbrecht Grant of the Jewish Community Federation and Endowment Fund. The award will support Krystal's research project  "A-sanarte (self-healing) Hatha Yoga Practice in conjunction with Group Therapy for Domestic Violence Victims in Mexico."
Krystal, who lives in Puerto Rico, has a B.A. in Sociology, a Master in Social Communication, and a Certification in Hatha Yoga, and she tells us that this is an exploratory social research project, whose principal objective is to explore the effects of a Hatha Yoga practice in conjunction with group therapy for victims of domestic violence. The recipients are a group of domestic violence victims from Chalco Municipality, México, and the research considers four objectives: body, mind, soul and society. This study is looking to improve the care programs dedicated to victims of gender-based violence in Mexico, which is subject to a gender alert for the high number of feminicides. The Dorbrecht grants are administered by NCIS, and applicants must be NCIS members at the time of application. www.ncis.org/grants
NCIS President Appointed to Teach at Aix-Marseille University
NCIS President Amanda Haste, who gave a well-received workshop at the 2015 NCIS Conference at Yale entitled "How Not To Lose It in Translation" has recently been appointed to teach the Translation in Practice and Literary Translation courses at Aix-Marseille University, France. Dr. Haste works as an academic translator and copy editor in the south of France, and was delighted to be approached personally by the University; she will be teaching third-year undergraduates on the English Language and Literature degree, using a syllabus which complements the heavily theoretical 'translation studies' aspect of the students' course.
Welcome New Member
Mary Agnes Edsall's bio:
Mary Agnes Edsall received a Ph.D. in English and Comparative Literature, subfield Medieval Literature, from Columbia University. She taught in the Core Humanities Program at Villanova University, at Bowdoin College and at the University of Massachusetts, Boston. She received funding from both the Solmsen Fellowship Program at the University of Wisconsin Madison and the American Council of Learned Societies. These grants supported two years in residence at UW Madison's Institute for Research in the Humanities. As an independent scholar, she presents at conferences, publish, and work on her monograph.
Amanda Haste admitted to Chartered Institute of Linguists
Amanda Haste, independent researcher, academic translator and NCIS Acting President, has recently been admitted to the prestigious Chartered Institute of Linguists in London, England. Amanda Haste's papers on translation issues include the informative, practical and entertaining presentation entitled "How Not to Lose It in Translation" at the 2015 NCIS conference, during which she discussed accurate translation of one's own work and the nuanced translation of source materials.
Welcome New Members
Rena Tobey's bio:
Rena Tobey earned a PhD in another field before turning her research attention to American art history.  Through five years of academic retooling, Rena focused on resuscitating the careers of barely-remembered American women artists working before 1945.  Now she is publishing a seven-essay series in Art Times Journal called "Finding Her Way," inspired by these accomplished artists.  Rena is also a playwright, and a recent work "Muses" has emerged from her research.  Just for fun, she is creating Artventures™--a tabletop board game on the adventures of art and art history.  Visit www.renatobey.com to learn more.
Annie Rehill has sent us the following bio:
Annie Rehill manages the USNI Oral History Program, while working as an independent scholar. With a Ph.D. in Modern French Studies, she researches intercultural connections as reflected in literature, especially Canadian. Her publications include "Ecocritical Perspective: Nature in Three Novels by Roumain, Zobel, and Condé," Writing Through the Visual and Virtual: Inscribing Language, Literature, and Culture in Francophone Africa and the Caribbean, Ousseina Alidou and Renee Larrier, eds. (Lanham, MD: Lexington), forthcoming 2015; and "Les coureurs de bois, motif éco-critique dans la littérature canadienne française," Studies in Canadian Literature 38, no. 2, 2013. She also holds master's degrees in library science and creative writing and has taught as an adjunct.
Member's Book- New Publication
Valerie Abrahamsen announces:

Paranormal: A New Testament Scholar Looks at the Afterlife.

In Paranormal, I examine four types of evidence for the survival of the individual soul after death: scientific instruments and techniques, near-death experiences, reputable psychics and mediums, and out-of-body experiences. This evidence points to common Christian/Western themes, such as the reality of a heavenly realm where we reunite with loved ones, as well as to truths generally dismissed in the West – reincarnation, karma and pre-birth decisions. My research over the past three years has taken me in some fascinating directions – to universities that conduct paranormal research today, popular TV shows that feature paranormal investigation groups and uncannily accurate mediums, the world of EVPs, the extraordinary Life Readings of Edgar Cayce, the sublime visions of the Virgin Mary at Medjugorje, and the wondrous explorations of Robert Monroe outside his body. My investigation presents the side of William James that took the paranormal seriously and the astonishing postmortem insights of Sir Arthur Conan Doyle. Our pets are featured, too: the evidence is clear that animals have souls that also survive so-called "death."

 

I hope you will consider reading Paranormal to see what I've discovered! The evidence shows that we can know what awaits us on the other side and that this knowledge can provide solace in grief and ethical guidance in our everyday lives.

 

Paranormal is available at www.northshire.com/book/9781605712581 ($20.00: free shipping within the US; VT residents, add sales tax). It can also be purchased at Northshire Bookstore, 4869 Main Street, Manchester Center, VT 05255. 802.362.2200, 800.437.3700 (call for hours).

 

Thank you!

 

Valerie Abrahamsen, ThD
NCIS Welcomes a New Member from Australia
ISAA Member Carol Roberts as a Member of NCIS
April 2015
Carol is a member of our NCIS Affiliate,  Independent Scholars Association Australia, and will be presenting a paper at the NCIS conference in New Haven in June.  Welcome Carol.
Carol Roberts has a Master of History (UNE Armidale, NSW), a Bachelor of Arts Majoring in Australian History and an Advanced Diploma in Local, Family and Applied History. She also has an Associate Diploma in the Theory of Music, Literature and Criticism from Trinity College of Music, London. Carol Roberts' research over recent years has focused on the links between art, history and tourism in her local area of the Hawkesbury Valley in New South Wales, Australia. She has been working closely with Greg Hansell, pastel artist, with whom she is writing and researching a book comprising Hansell's sketches of the Hawkesbury area. Carol worked in government departments in the areas of senior management and cultural services and has contributed her time to community and arts organizations for many years. She is a member of the Professional Historians' Association NSW and is an experienced historian who runs Hawkesbury Valley Heritage Tours and Advancing History research services. Carol is a relief organist at St Matthew's Anglican Church in Windsor and is also currently writing a book on the history of St Matthew's for the Bicentenary of the church in 2017.
Second Printing announced: Neil B. Dukas
Also, The Battle of Nu'uanu, 1795 : An Illustrated Pocket Guide to the O'ahu Battlefield (Mutual Publishing, Honolulu ) is now in its second printing.
Ph.D in Anthropology for NCIS member (Israel)
File Attachments: